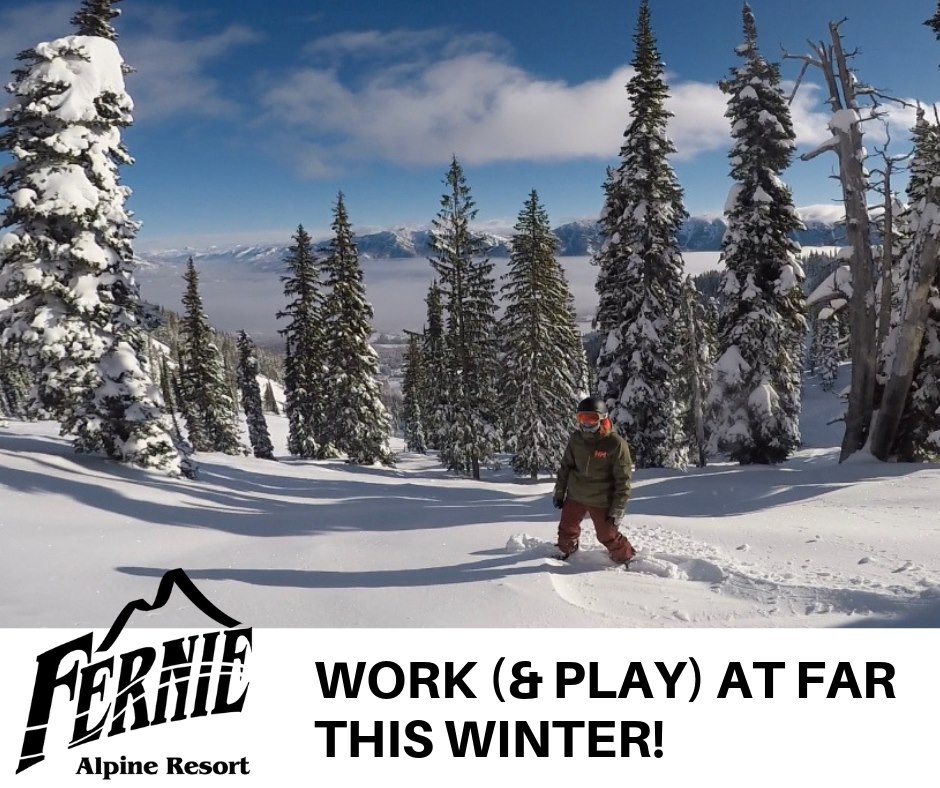 Winter Job Fair
"HIRING FOR PERSONALITY"
Our mission at Fernie Alpine Resort is:
"To provide our guests with the best vacation and recreational experience possible."
We will be conducting on-site, interactive, group interviews and providing job offers for all seasonal vacancies for the upcoming winter season. We are looking for energetic, positive individuals with excellent communication and people skills who enjoy working in a team-oriented environment.
Interview Detail
Date: Friday October 18, 2019
Times: 10am, 12noon, 2pm interview sessions. All interviews must be pre-booked. Please apply online at skircr.startdate.ca (location Fernie) to submit your resume & cover letter. Your interview date and time will be confirmed by return email.
Location: Fernie Alpine Resort Griz Lodge (Daylodge)
Positions: Tell us what job you are applying for! Line and Prep Cooks, Housekeeping, Lift operators, Ticket Checkers, Guest Services, Parking Attendants, Rental Shop, Janitorial, Food & Beverage, more!
See full job descriptions at www.skifernie.com/careers
Detail: Our management team will be conducting group interviews to assess candidate's suitability to provide quality guest service in all roles. We are 'Hiring for Personality'! Job offers will be made 'on the spot' until our roster is full. To avoid disappointment, please know that
competition/volume of applicants is high; therefore, you are strongly advised to book your interview without delay.
All job offers are conditional pending successful reference checks. Please bring your updated resume and references (contacts must include email and phone #'s) as well as copies of your relevant documentation (work visa/permit, SIN #, proof of health insurance, and any relevant training certificates).