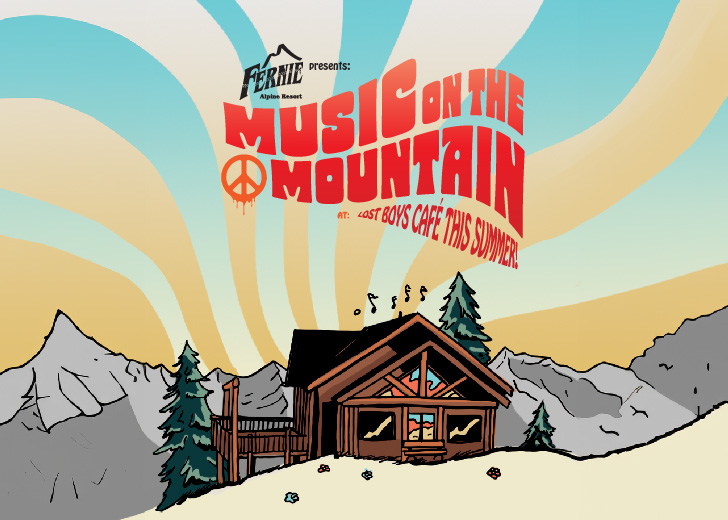 Music (& Art!) On The Mountain & Timber Chair 2023
Join us on August 5th & 6th for sightseeing and hiking up the Timber Chair and an afternoon of art & live music at the Lost Boys Café.
The Timber Chair will be open for hiking and sightseeing from 10:30 am to 4:00 pm.
Please note that guests must upload by 3 pm and download by 4 pm.
The following hiking trails will be open:
Lily Loop
Pika Pass
Lost Boys Lookout
Mammoth Trail
Siberia Ridge
Megasaurus
Bike Thief
White Pass / Polar Road
Get your Timber Hiking Trail Map here!
All other Timber side hiking trails will be closed to the public – please respect all closures.
Regular sightseeing lift ticket rates will be in effect.  Click here for rates.
Summer season passes will be accepted at the lift.
LOST BOYS CAFE:
Lost Boys Cafe be open for food and drinks from 10:30 am to 3:30 pm along with showcasing live music and local art.
Enjoy live music from Jeff Steiert at Lost Boys Café from noon until 3:00 pm each day.
Fernie Alpine Resort and The Fernie District Arts Council have collaborated, bringing you a wonderful display of Art from some of our talented local artists.  Free to create a piece that spoke to them, many of our artists paint outdoors, encapsulating nature with a playful outcome. This exhibition is a celebration of special places, characters and colour expressions from their artistic minds.  These original pieces will be shown at Lost Boys Cafe only for the weekend, after, they will make their way to The Elk Side on Boom Trail, creating a Nature Art Gallery Walk.  Don't miss out on seeing these wonderful pieces of art.
We hope you enjoy your day on the Timber Side!
PLEASE NOTE:
– Bikes will NOT be permitted on the Timber Chair.
– Polar Peak Ridge Walk is not open to the public. Public access to Polar Peak will be via Polar Road.
If you would like to attend the guided Ridge Walk hike please find details here:  https://skifernie.com/events/polar-peak-guided-hike/ 
If you miss out on this date, Timber Chair will be open for one more Music on the Mountain, hiking and sightseeing on:
September 2nd – Details HERE