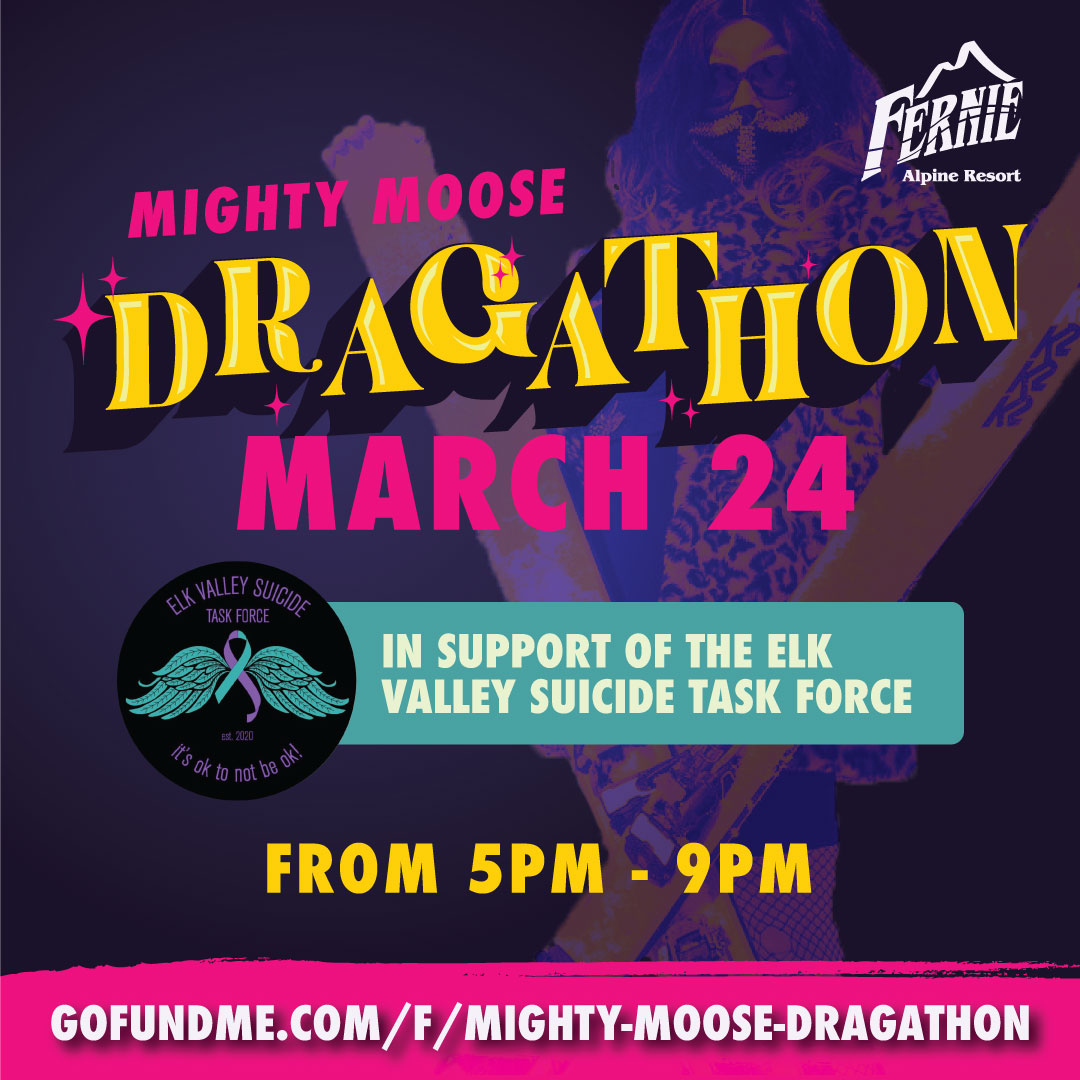 Mighty Moose Dragathon (in support of the Elk Valley Suicide Task Force)
It's time for Fernie to talk about Mental Health! Since January of 2020, the Elk Valley Suicide Task Force has led the conversation about Suicide awareness in the valley. They want to break down the stigma around suicide, open up conversations around the topic, and enforce the message that "It is OK to not be OK." 
Now is your opportunity to support a community that tackles the stigma and opens up a dialogue about Mental Health. You can help those in crisis by being a part of the conversation. Show your support on Wednesday, March 24th, as Isabella GiaV, members of the Taskforce and six other Drag Queens, lap the Mighty Moose from 5 pm – 9 pm. 
Fernie's most fabulous will ski/ride through the evening to raise awareness and funds for the Elk Valley Suicide Task Force. The funds raised will help the Task Force start a Grief Support Group for our community members affected by suicide. 
Support by sharing our social media posts, watching the videos and donating to the GoFundMe so we can embrace the conversation about Mental Health in our community. 

Donate to the event by clicking the button below or going to https://www.gofundme.com/f/mighty-moose-dragathon

Please Note: Due to COVID restrictions, this is a private fundraiser and the Mighty Moose is only open to members of the fundraiser that evening (no general public skiing will be allowed). While the Drag Queens love the support, gathering on the Mighty Moose to cheer them on is not possible this year.  Please stay tuned to our social media for live updates throughout the night.  The best way to support this year is to share the fundraiser, donate to the cause via the Go Fund Me link if you are able to, and most importantly, help us to spread awareness of the Elk Valley Suicide Task Force within our community and start conversations around the topic of suicide to help break the stigma.   

About the Elk Valley Suicide Task Force:
The Elk Valley Suicide Task Force originated in January 2020. After a streak of local suicides, a few local professionals got together to ask themselves what was happening and what we could do about it. While we didn't know the answer, we did recognise that we wanted to take action. A general information evening was organized, and with the help of the Fernie mayor and over ten different Elk Valley resources involved, we spoke to the public to address the topic of suicide in our community.
Since then, the Task Force stands to break the stigma around suicide, open up the conversation around the topic, and enforce with males, females, young and old, that it is OK to not be OK. Besides raising awareness and slowly breaking down the barrier around speaking about Suicide, we focus on providing local resources and being a safe place for people to reach out to when they don't know where to go.
We emphasize not being a crisis line and for people in immediate danger or need of help to phone 911. 
The Task Force empowers the public to continue this conversation with us and share what the needs in our valley are. A recent request was to provide a grief support group for those amongst us who have been affected by loss by suicide. The Task Force is currently working together with a local counsellor to set this up and offer a safe place to share grief experiences after losing someone by suicide. The money raised by Isabella GiaV's Dragathon fundraiser will go towards this project. 
The Task Force is beyond grateful for every opportunity to speak about suicide and mental health, which helps to normalize the topic. It is "It is OK to not be OK," and we truly hope to establish a society in our valley where anyone can feel safe to reach out for help. 
Mental Health matters.
For more information or to get in touch with the Elk Valley Suicide Task Force:
Facebook Page:
https://www.facebook.com/pages/category/Not-a-Business/Elk-Valley-Suicide-Task-Force-111348950451667/
Email:
[email protected]
If you or anyone you know is in crisis and at risk of suicide please call 911, go to your local emergency room, or call a crisis line at 1-800-426-8407(adults) or 1-800-784-2433(youth).