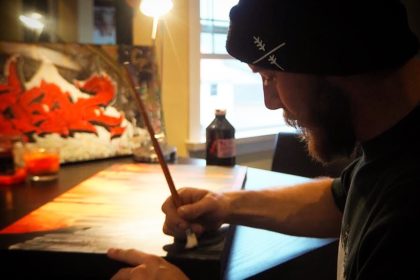 Did you know Fernie Alpine Resort has over 600 employees in the winter season? From skiers to snowboarders of any ability level, to anyone who just loves the snow, we have them all! With so many amazing individuals working with us, it was truly a monumental task to pick someone to feature in our blog, but for this post we went to the lift maintenance crew and caught up with Joey Kosolofski.
Joey, like the many others who visit our wonderful town, came for a season and ended up making Fernie his home. In the 2014/15 season Joey came to us as a lifty, caught the powder fever and has stuck around ever since, now working as an electrician in our lift maintenance department. When Joey isn't working, he enjoys shredding it up on the new side, more specifically in Currie Bowl.
What's a bucket list item for Joey? Heli-boarding in Switzerland of course! Because who doesn't want to go heli-boarding, right? It's every die hard snow enthusiast's dream…
When asked who was Joey's biggest hero, he didn't hesitate for a moment in telling us it was his mother. She has a glowing reputation of getting people who are older or with restrictions to take pride in physical wellness and activity. By creating a program called Pathway to Wellness, she is truly rejuvenating her community one step at a time.
"Her pride and motivation in everything she does and her drive to make a change has always inspired me to do my best and take pride in everything I do, whether it is work or play."
She sounds like she'd fit right in with the Fernie style, that's for sure!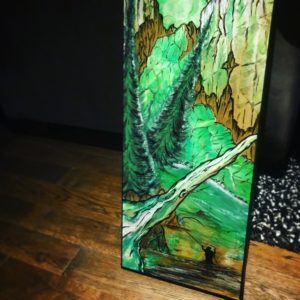 What else can we say about Joey? Well, how about mentioning his amazing talent as an artist?! Joey's philosophy towards art is a "no rules" kind of approach. His passion for art was sparked at the tender age of ten years old, and was encouraged even further by his art teacher throughout high school. In describing his work, Joey says "I started with a lot of doodling, and then the painting aspect just naturally came along with that graffiti style of art, and now has developed into a vibrant rendition of landscapes and other abstract work." Joey's art is a magnificent combination of vibrant abstract colours and landscapes inspired by our mountainous surroundings. Perhaps due to the fact that he believes anything can be inspiration, people who know and recognize Joey's artwork may describe it as "colour with motion". Pictured in this post is a piece that Joey is most proud of, drawing inspiration from vibrant colours and his time spent fly fishing this summer, which has just found its forever home in Saskatoon.
How can you check out more of Joey's incredibly unique artwork? We're glad you asked! Keep a watchful eye at Fernie Alpine Resort, because you never know, Joey's art just might make an appearance. But in the meantime, check out all his latest work by following him on Instagram @joeykozart.