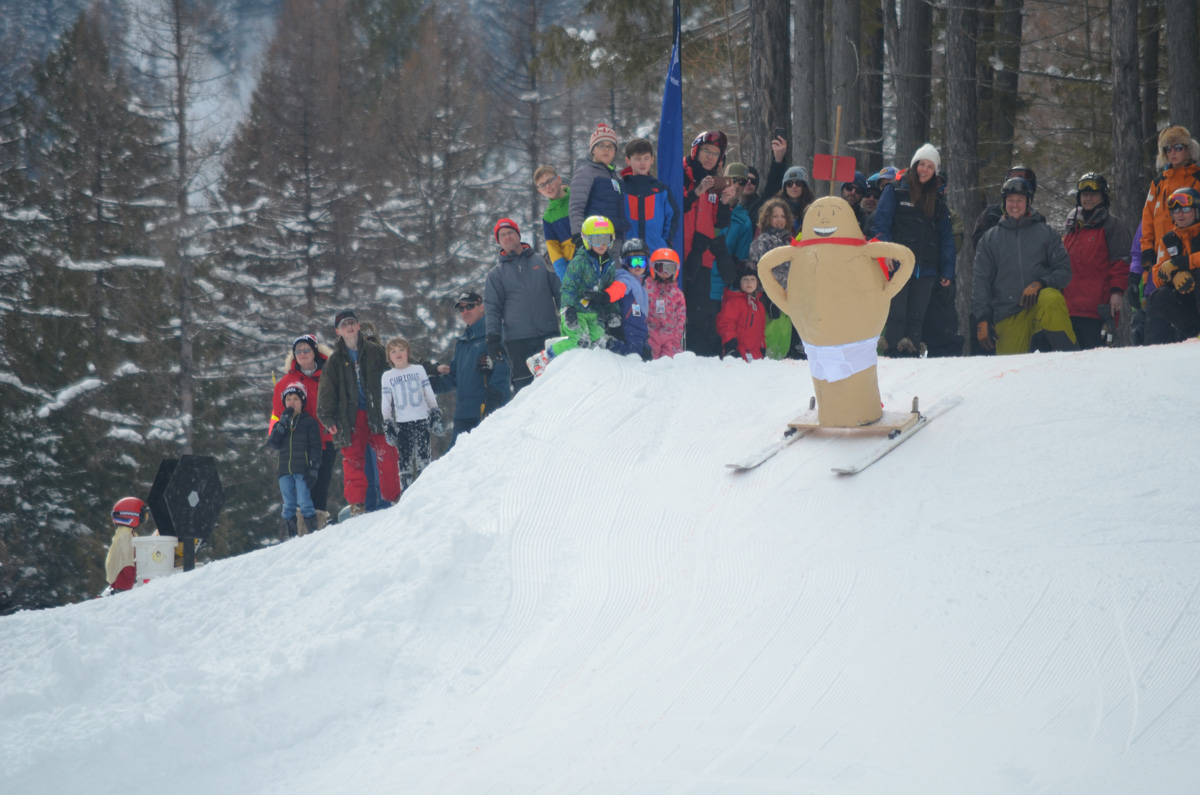 Raging Elk Dummy Downhill
A highlight of Fernie's winter Griz Festival! Strictly for fun, this competition features imaginative & hilarious "dummies" on skis launching themselves off a gigantic jump beside the Timber Chair.
The dummies can be created from various materials, and creativity is stressed. They are judged on their construction, creativity, theme, the distance they fly off the jump and the carnage factor when they land.
Prizes are awarded for the best construction, best theme/name, best disintegration, best flight, and more!
RULES:
No living cells are allowed in the race.
No remote controls or human contact with the dummy is allowed after launch.
Dimensions
– Not higher than 6 feet, lower than 3 feet or wider than 3 feet at the base.
– Volume-weight up to a max of 100 lbs. MUST PASS WEIGH-IN.
Only skis or snowboards are allowed to mount dummies on.
Dummy names must be suitable for publication.
One team member must go to the top of the course to launch the dummy.
Owners are responsible for retrieving all dummy parts and pieces after the event.
Gravel and dirt may NOT be used to weigh down your dummy.
No open flame/fire, fireworks, glass or sharp objects are allowed on the dummy.
Event organizers reserve the right to disqualify any dummies they feel are unsafe to the event and/or spectators.
REGISTRATION:
Details coming closer to the event

A huge thanks to our title sponsor, the Raging Elk Adventure Lodging & Kodiak Lounge
Who says you need to spend an arm and a leg to be comfortable? Raging Elk Adventure Lodging believes that finding suitable accommodation with great amenities shouldn't be a budget breaker. With a variety of affordable room options, including Private Rooms, Shared Rooms, Family Rooms, and our brand-new Deluxe Pods, you'll find a comfortable, clean, and secure place to stay that suits your needs at a price point you'll love.

Visit their website for more information – https://ragingelk.com/
Thanks to our black diamond sponsor, Evolution Fernie
At Evolution, you'll find a welcoming, positive environment with endless opportunities to play, challenge yourself and pursue your personal fitness goals! Walking into our facility, you will instantly discover a modern, contemporary health club that emphasizes quality, cleanliness and comfort in a relaxed yet energetic environment. You will feel right at home as our community familiarity and friendliness makes everyone feel welcome.
Visit their website for more information – https://evolutionfernie.com/