If unfamiliar with a lift's operation, first watch others and learn, or ask for assistance.
Slow down before approaching the entrance to a lift.
Have your lift ticket visible to the ticket checker.
Obey all posted instructions.
Load and unload only at designated areas.
To speed up everyone's ride, group up before reaching the lift loading platform.
Be polite and courteous at the loading area.
Use caution, raise poles and remove pole straps from wrists at loading and unloading ramps at mid-station.
Remove backpacks and camelbacks before riding chairlifts.
Always lower the safety bar.
If you fall while getting off the lift, keep your head down and crawl quickly out of the way.
Swinging, bouncing or otherwise abusing lift equipment can be dangerous. If alone, sit in the middle of the chair.
Make certain no loose clothing is caught in the lift before unloading.
Remove stereo headsets before reaching the lift-loading and unloading platform.
If lift stops, or moves slowly backwards, never attempt to jump off.
Move quickly away from the unloading area.
When riding a lift with small children, help them load and unload. Do not allow them to ride the lift alone. You are responsible for your children and their actions.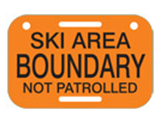 SKI AREA BOUNDARY
This sign indicates the edge of Fernie Alpine Resorts' patrolled area. Skiing or riding outside the area boundary is strongly discouraged as the terrain is not avalanche controlled or patrolled and can be very remote.

MARGINAL SKIING
This sign identifies runs that have limited snow cover, but are still "skiable" with caution. May have exposed rocks, creeks, etc. Damage to your equipment is likely. Ski with care and prepare for the unexpected. If signs are out at the top or bottom of the lifts, this indicates that all or much of the area has unmarked hazards.

AVALANCHE DANGER
This sign is used for permanent or temporary closure of areas within the ski area. Avalanche Closures keep Employees and Guests out of harm's way while active avalanche control is taking place or when the hazard is too high. Lift access privileges will be revoked for entering these areas when closed for control.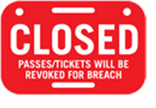 CLOSED
Runs may be closed for several reasons such as trees have fallen onto the run, ditches or holes have rendered the run unsafe, race or other events are taking place, or perhaps machinery is operating. Lift access privileges will be revoked for entering these areas when closed. Passes will be revoked for breach.