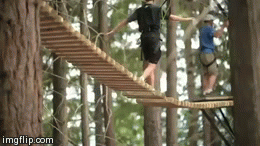 Unless you've been skydiving, bungee jumping, on one of those suspended platform swinging things or some other extreme sports; you probably haven't experienced the feeling of flying.  Well at Fernie Alpine Resort you can, with the new Aerial Park & Ziplines to try.
This exhilarating course, that starts off easy and progressively gets more challenging and higher up in the trees!
You'll start off by being expertly trained by our high flying and super fun staff and get versed on the safety rules of the course and our safety buddy system.
Then it's right down to business, traversing across high up bridge walks

And tire bridges

Climb across rope walls to your next feature

Balance across moving planks

Some points might be a little bit scary

Although we have no doubt you'll prevail

To finish it all off with a few mini zipline rides

And rappel at the end to get your feet back on the solid ground!

Check out the Aerial Park and Zipline this Summer at Fernie Alpine Resort!  Chat live with a vacation specialist online to book a vacation or call 1-800-258-7669 today.
By: Cali Sammel

@california1530
Photos by Brent Grabowski, Cali Sammel and Nicole Matei