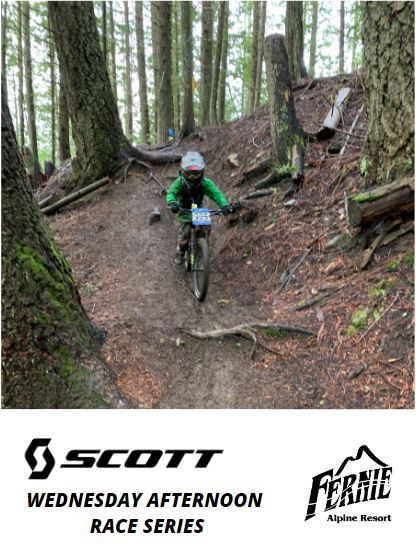 Scott WEDNESDAY Afternoon Race Series for Kids and Youth
Series Points Standings – CLICK HERE
NEW RACE NIGHT!!
Due to the popular demand of the Thursday Night Race Series and our new limit on registrations, we have decided to run an extra night of racing this summer. This is an effort to try and give everyone an opportunity to take part in this fun summer series of racing.
All Youth and Kids will now race on Wednesday afternoons. Race details are the same as the Thursday Night Race Series (see below for more details) and the racecourse will be the same.
Come out every Wednesday for an afternoon of fun, gravity-fed mountain biking, great post-race draw prizes from SCOTT and Fox, and post-race refreshments in the Plaza!
To see our complete COVID-19 Safety Plan for our Wednesday Afternoon Race Series (subject to change), Click Here.
To minimize contact points and ensure we are adhering to the public health recommendations surrounding COVID-19, we will NOT be taking onsite registrations. ALL registrations must be completed ONLINE before 4:00 pm on race day. 
Registrations for each event will be limited this year, so get in quick to secure your spot!

Entry fee is $5  (includes race and post-race drink sponsored by Legends Mountain Eatery).
Lift ticket or a season pass is required to access the racecourse.  (Lift ticket is not included in entry fee).
Note: The registration link is for the entire series, but you don't have to register for all races at once. You can use the same link to register each week for that given race. 
RACER CHECK-IN:
All racers must check-in at Guest Services on the day of the race to pay their $5 registration fee and collect their race plate. The dedicated check-in desk at Guest Services will be open from 1 pm – 4 pm every Wednesday. 
Format: Racers will get one lap down the designated course and are timed via our manual Webscorer App.  The course will be open to the public all day and racers are encouraged to take a practice run as no formal training run will take place.  Following the race, competitors can head over to the Plaza and trade in their race plate for a cold beverage to enjoy as times are tabulated.  The prize ceremony will follow in the plaza approx. 20-30 min after the last racer has crossed the finish line.  Weekly prizes are given out via draw prizes plus competitors accumulate points at each race, and series champions in each category are crowned at the final race on September 3rd (please note racers must compete in a minimum of 3 races over the season in order to qualify for the overall standings).
START TIMES:
Racing will start at 4:30 pm on Wednesday and we will have stagger start times and avoid any crowding at the start area. Each racer will be allocated specific start time. Competitors will not be permitted to enter the start area until 5 minutes before their race time. Only competitors and race officials will be allowed in the starting area (exceptions will be made for parents with kids racing, please contact the event organizer to discuss this further). 
Course:  The course will be announced on the day of each race and posted both here, and on the Fernie Alpine Resort Facebook page.
2020 Race Dates:
July 15 – Results CLICK HERE
July 22 – Results CLICK HERE
July 29 – Results CLICK HERE
August 5 – Results CLICK HERE 
August 12 – Results CLICK HERE
August 19 – Results CLICK HERE
August 26 – Results CLICK HERE
September 2 – Results CLICK HERE
Race Categories (male & female categories for each age group):
Kids (age 8-12)
Youth (age 13-17)
Open Category (18+) – This is for parents who want to race on the same night as their kids. This category will not be eligible for series points and will only be accepted if the race is not full.
*Race category is determined by your age at your first race*
WAIVERS:
Resort waiver(s) are required prior to racing.  Racers ages 16 and over must complete a resort EVENT WAIVER.  Racers ages 15 and under must have their parent or legal guardian complete both an EVENT WAIVER AND PARENTAL CONSENT WAIVER.  The waiver(s) just have to be completed once and will cover the whole series.
All waivers must be completed online before 4 pm on race day. No paper waivers will be available this year!
IMPORTANT note for competitors 15yr and younger doing the waivers online – your parent must complete BOTH the EVENT & PARENTAL WAIVERS (you will get 2 confirmation emails – one with the event waiver and one with the parental wavier). Please do not miss one or the other – you cannot complete your registration or pick up your bike plate until both waivers are complete.

New Cancelation Policy
If you do not wish to race you have until 3 pm on race day to cancel your registration, either by email or phone to Guest Services. If you do not show up to a race without notice, your registration for any future races will be canceled.
We have a waitlist for races this year so it is important you communicate with us as early as possible if you wish to cancel.
Thank you to our sponsors:  Scott, Fox and Legends Mountain Eatery

Photo Credit:  Stacey Charest