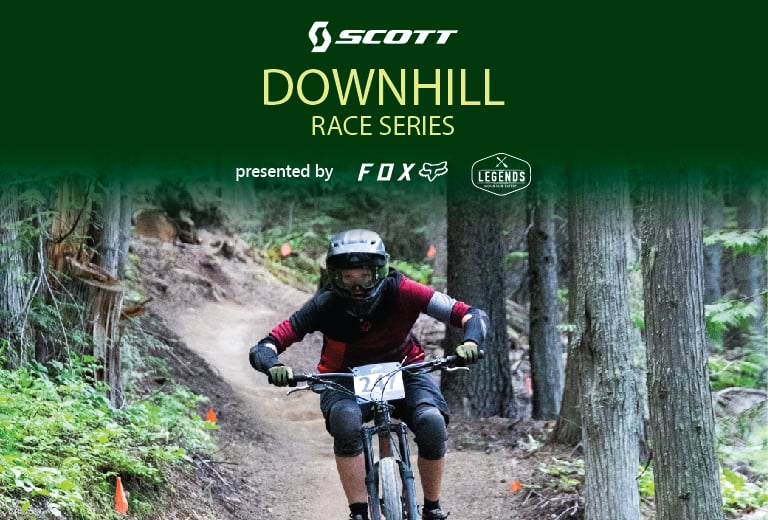 Scott Downhill Race Series presented by Fox & Legend's – Wednesday Afternoon Kids & Youth Race
Wednesday Afternoon Kids & Youth RaceDetails:  (for the Thursday Adult/Master race details, click here)
Everyone's favourite weekly bike race series is back for 2022 – The Scott Downhill Race Series presented by Fox & Legends Mountain Eatery!
Come out each week for a fun, gravity-fed downhill race followed by prizing, results, and a beverage at Legends Mountain Eatery.
The races will run similar to last summer with Kids & Youth (ages 8-17) racing on Wednesday Afternoons at 4:30 pm and Adults & Masters (ages 18+) racing on Thursdays at 6:30 pm.   Races run weekly** from June 29th to September 1st (**with the exception of July 13 & 14)
ENTRY FEE:
The entry fee is $5 per race  (includes race and post-race drink while waiting for the results/awards).
A lift ticket or a season pass is required to access the race course.  (Lift ticket is not included in the entry fee).
REGISTRATION:
ALL registrations must be completed ONLINE before 3:45 pm on race day.  Spots are limited so register early – races usually fill up fast!   Registrations will be taken weekly this year. Registration for the first race will open on June 23rd 10am.  Race registrations for the rest of the series will open on Thursdays at 10 am for the following week's race (note no race July 13th)
Registration:
Race #1 – https://www.webscorer.com/register?raceid=281086&owner=1
Race #2 – https://www.webscorer.com/register?raceid=281685&owner=1
Race #3 – https://www.webscorer.com/register?raceid=282490 
Race #4- https://www.webscorer.com/members/myracedetails?raceid=282918 
Race #5- https://www.webscorer.com/register?raceid=283806
Race #6 (Aug. 10th) –https://www.webscorer.com/register?raceid=284432
Race #7 (Aug. 17th)  – https://www.webscorer.com/register?raceid=285134
Race #8 (Aug. 24th)- https://www.webscorer.com/register?raceid=285975
Race #9 – FINAL (Aug.31st) https://www.webscorer.com/register?raceid=287553
EVENT RELEASE AGREEMENT:
Resort event release agreement waiver(s) are required prior to racing.  Racers must complete up to 2 waivers to participate in the race.
Racers ages 16 and over must complete a resort EVENT RELEASE AGREEMENT WAIVER.  Racers ages 15 and under must complete 2 waivers and have their parent or legal guardian complete both an EVENT RELEASE AGREEMENT WAIVER AND PARENTAL CONSENT WAIVER.  The waiver(s) just have to be completed online once and will cover the whole series.  All waivers must be completed online prior to check-in.
ONLINE EVENT AGREEMENT LINK – CLICK BUTTON BELOW

RACE CATEGORIES:
Kids Male & Kids Female (age 8-12)
Youth Male & Youth Female (age 13-17)
*Race category is determined by your age at your first race
*Minimum age is 8 years old (If a competitor turns 8 over the summer – they do still have to wait until they turn 8 years old before they can start racing)
Open Category (18+) – This is for parents who want to race on the same night as their kids. This category will not be eligible for series points and will only be accepted if the race is not full.  Registration for the open category will only be taken on race day at race check-in.
FORMAT:
Racers will get one lap down the designated course and are timed via our manual Webscorer App.  The course will be open to the public all day, and racers are encouraged to take a practice run as no formal training run will occur.  Following the race, competitors can head over to Legend's and trade in their race plate for a cold beverage to enjoy as times are tabulated.  The prize ceremony will follow in the plaza approx. 20-30 min after the last racer has crossed the finish line.  Weekly prizes are given out via draw prizes, plus competitors accumulate points at each race, and series champions in each category are crowned at the final race on Augsut 31st (please note racers must compete in a minimum of 3 races over the season to qualify for the overall standings).
RACER CHECK-IN:
All racers must check-in at the designated Ticket Office Window in the plaza on the day of the race to pay their $5 registration fee and collect their race plate. The dedicated check-in window will be open from 1 pm – 4 pm every Wednesday. 
Please note all competitors MUST complete their Event Waiver(s) online prior to check-in. 
START TIMES:
Racing will start at 4:30 pm on Wednesday and we will have staggered start times to avoid any crowding at the start area. Each racer will be allocated a specific start time. 
COURSE:
The course varies each week and will be announced on each race day and posted here and on the Fernie Alpine Resort Facebook page
Race #9 – Will Power to Monorail (NOTE: Race start is where Will Power starts down by Bear Chair Load)
Race #8 – Top Tree (Top Gun to Hollow Tree)
Race #7 – Eville
Race #6 – Mr. Berms to Duff Dynasty-  Backup trail is 'Eville'. Patrol will inspect the course at noon to ensure there are no slippery features. Will confirm trail at check-in
Race #5 – Bin Lodgin – bonus points for going chainless! (Note: chainless is just an option and not mandatory for the race)
Race #4- Top Flight (Top Gun to Alternate Flight Pattern)
Race #3 – Will Power
Race #2 – Top Gun
Race # 1 – Hollow Tree
RACE DATES & REGISTRATION:
Race #1 – June 29: Registration opens June 23 at 10 am (MST)
Race #2 – July 6: Registration opens June 30 at 10 am (MST)
**NOTE NO RACE JULY 13th (to allow the resort teams to get ready for the Canada/BC Cup race on July 16-17)
Race #3 – July 20: Registration opens July 14 at 10 am (MST)
Race #4 – July 27: Registration opens July 21 at 10 am (MST)
Race #5 – August 3: Registration opens July 28 at 10 am (MST)
Race #6 – August 10: Registration opens August 4 at 10 am (MST)
Race #7 – August 17: Registration opens August 11 at 10 am (MST)
Race #8 – August 24: Registration opens August 18 at 10 am (MST)
Race # 9 – FINALE – August 31: Registration opens August 25 at 10 am (MST)
RESULTS
Race Results can be found here – https://skifernie.com/events-activities/summer-event-results/
Cancellation Policy 
If you cannot attend a race you have registered for, you have until 3pm on race day to cancel your registration.  To cancel please call 250-423-2401 or email [email protected]
To ensure we can fill as many spots as possible and start the race on time, if racers do not cancel and do not show up for the race, they may lose future racing privileges.
HUGE THANK YOU TO OUR RACE SPONSORS: Scott, Fox and Legends Mountain Eatery 

Photo Credit:  Emma Polit