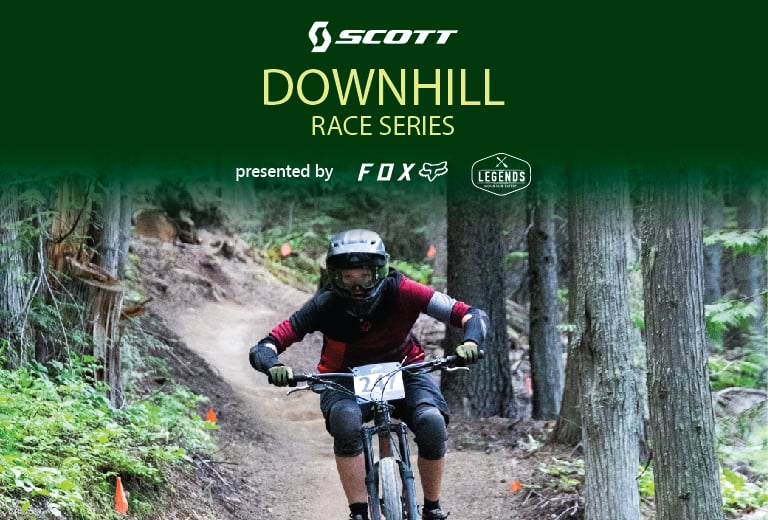 Scott Downhill Race Series: Thursday Night Adult & Masters Race presented by Fox & Legends
Everyone's favourite weekly bike race series is back for 2021 – The Scott Downhill Race Series presented by Fox & Legends Mountain Eatery!
Come out each week for a fun, gravity-fed downhill race followed by prizing, results, and a beverage at Legends Mountain Eatery.
The races will run similar to last summer with Kids & Youth (ages 8-17) racing on Wednesday Afternoons at 4:30 pm and Adults & Masters (ages 18+) racing on Thursdays at 6:30 pm.   Races start July 7th and run every Wednesday and Thursday through September 2nd.
Thursday Evening Adult & Masters Race Details:  (for the Wednesday Kids/Youth race details, click here)
ENTRY FEE:
The entry fee is $5 per race  (includes race and post-race drink sponsored by Legends Mountain Eatery).
A lift ticket or a season pass is required to access the race course.  (Lift ticket is not included in entry fee).
REGISTRATION:
To minimize contact points, we will NOT be taking onsite registrations. ALL registrations must be completed ONLINE before 5:45 pm on race day.  Spots will be limited so register early.   Currently, spots will be limited to 50 per race to help us ease back into racing and ensure we can provide a safe and fun race for everyone.  We will continue to monitor numbers and may increase numbers as the season goes on.  
Registrations will be taken weekly this year. Registration for the first race will open on July 5th at 9 am.  Race registrations for the rest of the series will open on Fridays at 9 am for the following week's race.
To register click the "Register Here" button below:

RACE CATEGORIES:
Adult Male & Adult Female (age 18-39)
Master Male & Mater Female (age 40+)
*Race category is determined by your age at your first race*
RACER CHECK-IN:
All racers must check-in at the designated Ticket Office Window in the plaza on the day of the race to pay their $5 registration fee and collect their race plate. The dedicated check-in window will be open from 3pm – 6pm every Thursday. Please note all competitors MUST complete their Event Waiver(s) online prior to check-in. 
WAIVERS:
Resort waiver(s) are required prior to racing.  Racers ages 16 and over must complete a resort EVENT WAIVER.
All waivers must be completed online before coming to check in on race day. No paper waivers will be available this year!
To fill out the online waiver, click the button below:

FORMAT:
Racers will get one lap down the designated course and are timed via our manual Webscorer App.  The course will be open to the public all day, and racers are encouraged to take a practice run as no formal training run will occur.  Following the race, competitors can head over to Legend's and trade in their race plate for a cold beverage to enjoy as times are tabulated.  The prize ceremony will follow in the plaza approx. 20-30 min after the last racer has crossed the finish line.  Weekly prizes are given out via draw prizes, plus competitors accumulate points at each race, and series champions in each category are crowned at the final race on September 2nd (please note racers must compete in a minimum of 3 races over the season to qualify for the overall standings).
START TIMES:
Racing will start at 6:30 pm on Thursdays, and we will have staggered start times to avoid any crowding at the start area. Each racer will be allocated a specific start time. Competitors will not be permitted to enter the start area until 5 minutes before their race time. Only competitors and race officials will be allowed in the starting area.  Competitors must maintain distancing while waiting for their start time (please look out for the pylons).   Start times will be posted at check-in. 
COURSE:
The course will be announced on each race day and posted here and on the Fernie Alpine Resort Facebook page.
Race #1 – Hollow Tree
Race #2 – Will Power
Race #3 – Top Gun
Race #4 – Case Closed to Eville
SAFETY PRECAUTIONS & RESTRICTIONS:
Although restrictions are starting to ease, we understand that everyone is at a different comfort level returning to events. As a result, we do have safety measures in place to ensure a safe and fun race series.
Race:
– Racers, parents, support crew and spectators must follow the Safety procedures of Fernie Alpine Resort – those can be found here – https://skifernie.com/covid-19/summer/.
– Racers will be given start times and cannot come to the starting area until 5 minutes prior to their start wave.
– When racers arrive at the start, they must maintain social distancing of 2m from each other (pylons on the ground will help mark distancing requirements)
– Masks are recommended for all people 12 and older who are not yet fully vaccinated.  For those that choose to wear masks, they can be removed at the start line prior to racing.
– The starter will maintain a minimum 6ft distance from the starting line.
– The immediate finish line area will be limited to race staff.
– Spectators are allowed below the finish line area.  Spectators must maintain social distancing of 2m.  Masks are recommended for anyone 12 and older who are not fully vaccinated.
Post Race @ Legends:
– There are no limitations on who you can sit with at your table,  however, you must stay with the table configurations that are already in Legend's (no pushing tables together).– IMPORTANT:  To comply with current Provincial Health Orders there is NO socializing allowed between tables.  Patrons must remain seated and cannot move between tables.   That means, once you are seated with your group, you stay seated with that group for the rest of the evening.    We know you are eager to hang out and catch up, however, these are the current restrictions that Legends must follow to be open, so please make it easy for our staff by complying with the current rules.
– We determine the maximum number of patrons who can be accommodated safely on our premises.
– Masks are recommended in indoor public settings for all people 12 and older who are not yet fully vaccinated.
Racers who do not follow these safety rules on course and/or at Legends will be suspended from participating in the next race and could be suspended from racing for the rest of the season.
These procedures may evolve and change as the season progresses.  Please check back for the most up-to-date precautions.
These precautions are in place so that everyone can have a safe and fun race season!
Cancellation Policy 
If you cannot attend a race you have registered for, you have until 3 pm on race day to cancel your registration.  To cancel please email [email protected]
We may have a waitlist for races this year, so you must communicate with us as early as possible if you wish to cancel.  Failure to cancel may result in disqualification from future races.
RACE DATES & REGISTRATION:
Race #1 – July 8: Registration opens July 5th at 9 am
Race #2 – July 15: Registration opens July 9th at 9 am
Race #3 – July 22: Registration opens July 16th at 9 am
Race #4 – July 29: Registration opens July 23nd at 9 am
Race #5 – August 5: Registration opens July 30th at 9 am
Race #6 – August 12: Registration opens August 6th at 9 am
Race #7 – August 19: Registration opens August 13th at 9 am
Race #8 – August 26: Registration opens August 20th at 9 am
Race # 9 – FINALE – Sept 2: Registration opens August 27th at 9 am
RESULTS
Results from each week's race are available here: SCOTT DOWNHILL RACE RESULTS.
HUGE THANK YOU TO OUR RACE SPONSORS: Scott, Fox and Legends Mountain Eatery 

Photo Credit:  Emma Polit