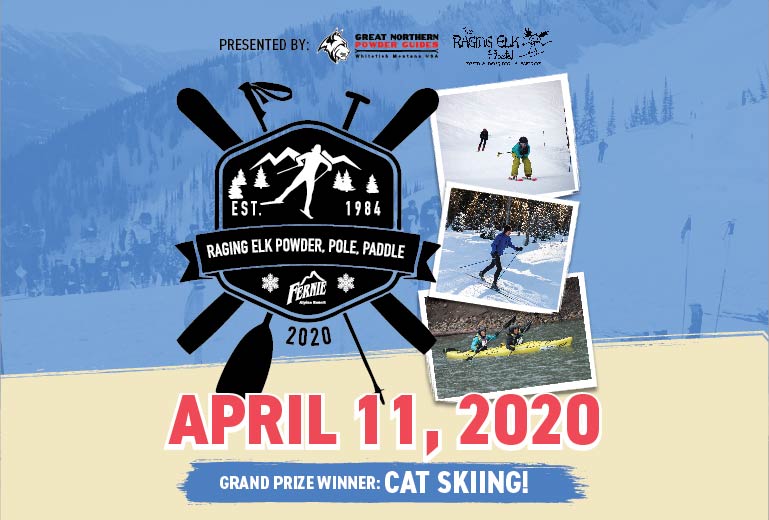 CANCELLED – Raging Elk Powder Pole Paddle Relay Race Presented by Great Northern Powder Guides
Due to the ongoing concern regarding COVID-19, the Raging Elk Powder Pole Paddle event will be cancelled.  Please visit skifernie.com for further updates.
A Fernie Tradition that has been going strong since 1984 BUT this year it has some changes.
Due to construction on Highway 3, there will be no bike section to this race. By popular choice, we will be replacing this with a new and exciting Nordic Skiing leg, using the most of our great Nordic Trails we have here at Fernie Alpine Resort.
Teams of 2-5 people ski, pole, paddle, and then run in a fun (yet competitive) relay race, followed by a BBQ in the plaza and live music from our Fernival Bands – DJ Aurora and Dehli2Dublin!
COURSE DESCRIPTION – New course for 2020:
SKI (4.5 km) – Top of Bear Express Chair, down Cedar Bowl & Cedar Trail to base area, finishing just below Timber Chair.
NORDIC SKI (4 km) – From Timber Chiar through the new Timber Landing subdivision, linking back up with the Silk Nordic Trail and coming back down the bottom of Falling Star to Timber Chair.
PADDLE (6 km)- From Fernie (radio released from Nordic Skiing transition), down the Elk River to the bottom of ski hill road.
RUN  – 2km – From bottom of ski hill road run uphill, through the Timberline Subdivision, through Parking Lot #1 to the finish line in the base.
CATEGORIES:
Teams of 2 to 5 people. 1 person per leg with the exception of the paddle leg which can be done by 2 people in the same boat. Team members can do more than 1 leg however THE NORDIC SKIER AND PADDLER CANNOT BE THE SAME PERSON, NOR CAN THE PADDLER AND THE RUNNER. Teams of 2 may have to shuttle between the finish point of one leg and the start point of another leg.
– Men's Team
– Women's Team
– Mixed Team (must have at least 2 females) Winning category for this years grand prize – CAT SKIING!
– Family/Youth Team (must have at least 2 youth under 18 yrs)
** Minimum age to be able to participate in the competition is 12 yrs old
EVENT RULES:
Helmets are MANDATORY for all ski & bike stage competitors
Life jackets are MANDATORY for those on the paddle leg and paddlers must be wearing their life jacket (not good enough to have it in the boat)
Competitors must supply all of their gear (including canoe/kayak) and ensure their gear is in good condition.
PRIZING:
There are fantastic prizes for the top finishers in each category as well as bonus prizes! Costumes are encouraged as there are prizes for best costume, best theme, most creative name and more!
We are excited that the Great Northern Powder Guides are back as our main prize. This year, the lucky winning team that gets to go Cat Skiing is – the Mixed Team!
A huge thanks go out to our title sponsor, Raging Elk Hostel & Kodiak Lounge. Spend a night, not a fortune at Fernie's premiere hostel or enjoy a cold beverage in the cozy Kodiak Lounge. For more information visit their website here.
Thanks to our presenting sponsor, Great Northern Powder Guides. With 3,788 vertical rise and 20,000 acres of glades, pillows, trees and chutes. Great Northern Powder Guides offer the ultimate in backcountry Cat Ski experience. Visit their website to learn more here.
Big shoutout to our gold sponsor, Elevation Showcase – the local purveyors of fun! Elevation provides top-of-the-line gear to get you outside enjoying the best of the mountains, rivers and lakes in our backyard! They want you to feel ready from start to finish. Find out more here.