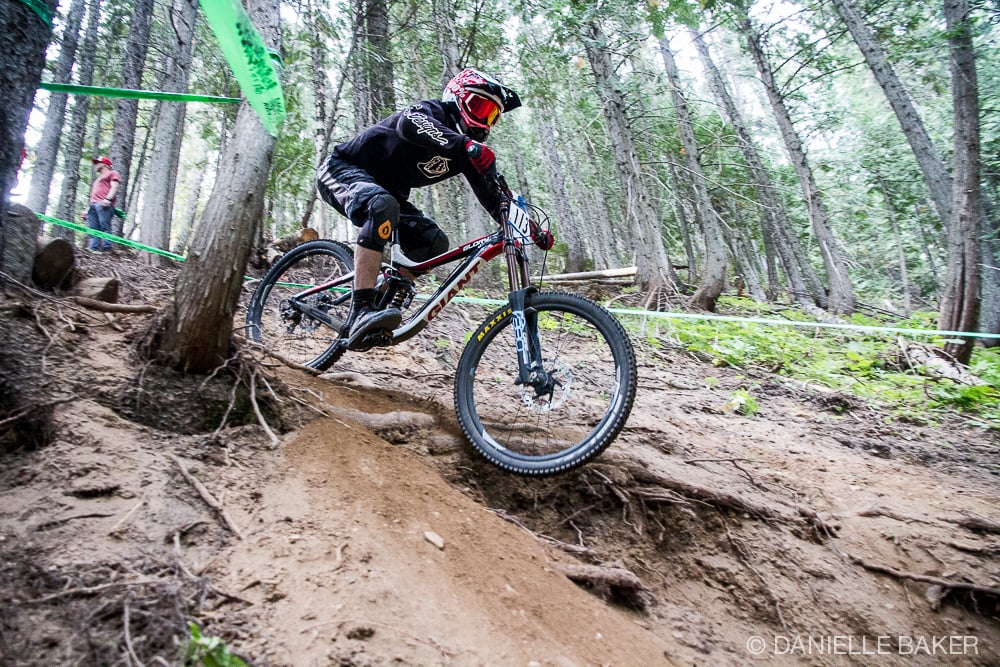 Fernie Dunbar Summer Series Canada Cup / BC Cup Downhill Mountain Bike Race

Fernie Alpine Resort is proud to partner with SE Racing, Cycling Canada, and Cycling BC to host the Fernie Legendary Summer Canada Cup / BC Cup Downhill Race!   Competitors can expect a newly designed fun, technical racecourse complete with the infamous "steeps".  This Canada Cup / BC Cup DH race is part of the Dunbar Summer Series.
NEW THIS YEAR – We are excited to work with KASA (Kootenay Adaptive Sports Association) to offer an adaptive bike category in this year's race.
Online registration is now closed. Registration is available in-person – cash only – at the Daylodge in the Plaza on Friday between 5-7 pm, and Saturday, 9-1 am.
To keep informed on all the Dunbar Summer Series Races, visit their Facebook page – https://www.facebook.com/dunbarsummerseries.
Schedule:

A printable version of the schedule is available: Click here.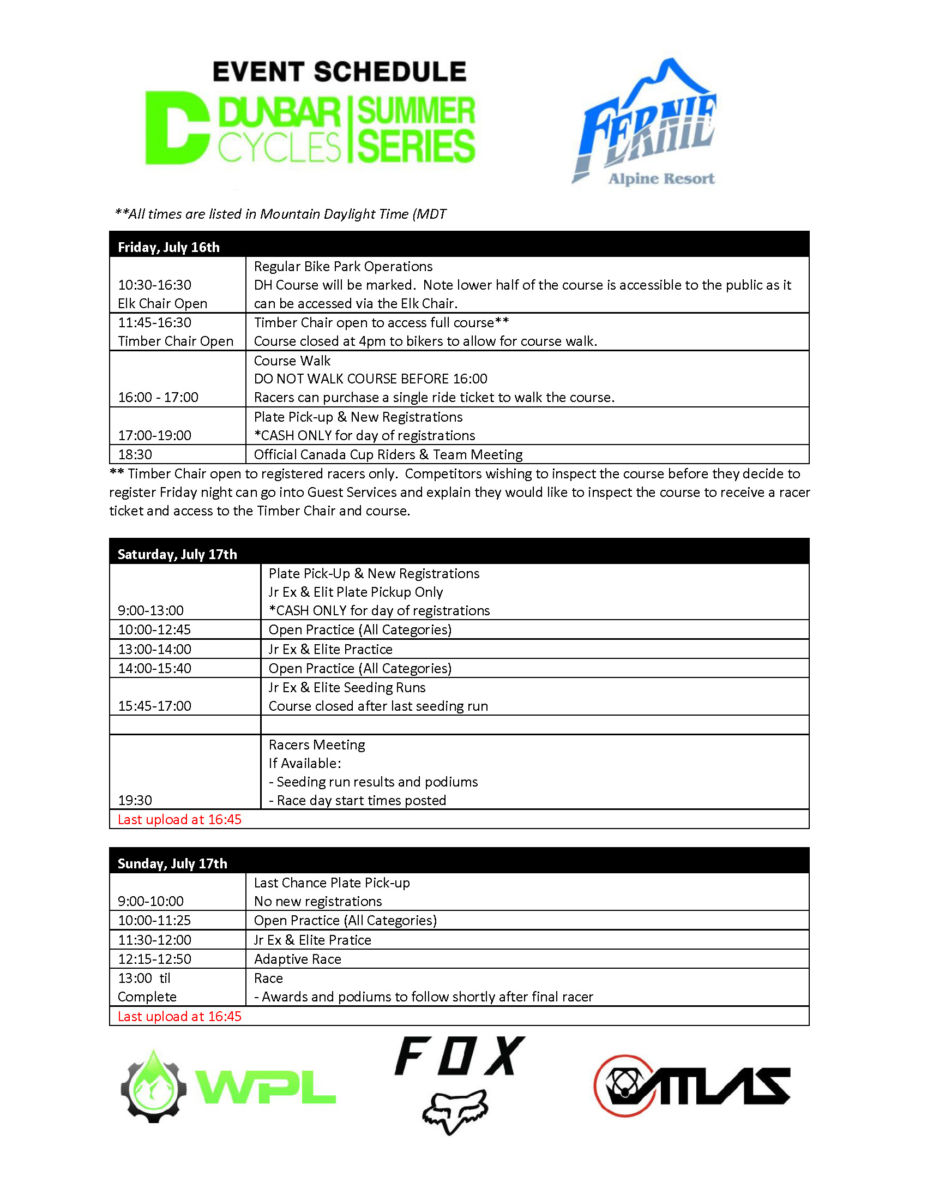 NOTE: The Timber Chair is open to racers only.  The Elk Chairlift is open 10:30 am – 4:30 pm all weekend for lift-accessed biking, hiking and sightseeing for racers, family and friends.
Lift Tickets:
Competitor 2 Day (Saturday & Sunday) Race Lift Ticket for the event will be $61.95+gst (Ages 18+) and $45.95+gst (Ages 13-17).
Competitors will pay and pick up their lift tickets at race check-in.
Friday & Monday – Competitors receive a 20% discount on their lift ticket.  To get the discount Friday, competitors must be pre-registered by Thursday.  Competitors, please head into Guest Services and let them know you are with the race. They will confirm with our registration list, and you will receive the discount.
Waiver:
All competitors must fill out RCR Event Waiver(s) prior to the event.   Any competitor 16 years of age and older (as of Day 1 of competition) must fill out an EVENT WAIVER.  You can fill the Event Waiver out yourself.  Any competitor 15 years of age and younger (as of Day 1 of competition) must fill out both the EVENT WAIVER and PARENTAL CONSENT WAIVER.  Your parent or legal guardian must complete these waivers.  You will receive an email with a copy of the completed waiver to confirm you have finished the process (you will receive one email per waiver, so competitors 15yrs and younger should receive 2 emails – one email with a copy of the Event Waiver and one with the copy of the Parental Consent Waiver).  Click on the online waiver button below to fill out the waiver.

Course:
The top half of the course starts with the infamous technical "Canadian Section" steeps.  The course then connects with the fast and loamy "Bicycle Thief" trail through the woods.  The trail then exits onto a wallride feature before a high-speed section to the Rockstar Tree Island and the final finish ramp.
Adaptive Riders will re-route from the start and race down the access road to connect with Bicycle Thief.
Racers can access the top of the course by riding down the access road from the top of the Timber Chair – follow the signs.  Please note: Access road is gravel, and there are loose sections, so please ride with care when heading to the start area.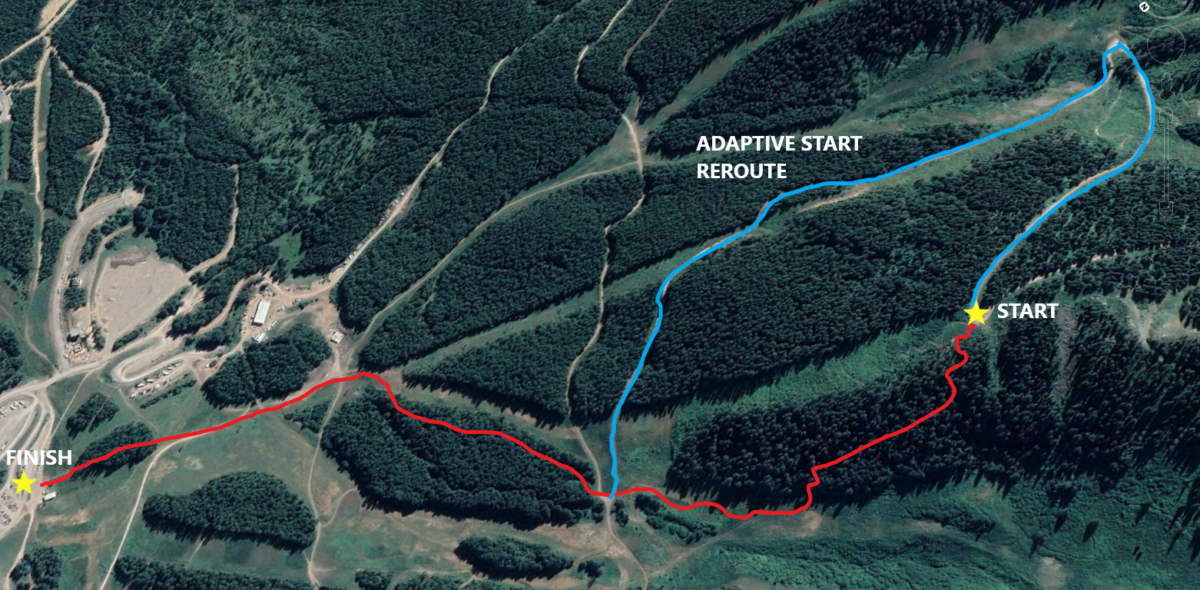 Accommodation:
Hotels
All competitors receive a 20% discount on accommodation at Lizard Creek Lodge for the event weekend. To book a room, please call the hotel directly at 1-877-228-1948 and state the following booking code: "BC21"
Note: The discount is subject to room availability and is only valid for phone bookings direct with the hotel (discount not available for online bookings).
Lizard Creek Lodge
The 4.5 star "mountain chic" Lizard Creek Lodge is the perfect mountainside accommodation at Fernie Alpine Resort.  Distinguished by its convenient location on Highline Drive, the hotel is located just steps from the Elk Chairlift.  The outdoor pool and hot tubs overlook the mountains, and the main lodge is home to Cirque Restaurant.  Each luxurious suite has differing configurations – studios, one, two, and three-bedroom suites, and all offer full kitchens – www.lizardcreek.com.
Competitors can also receive a 10% discount through RCR Central Reservations via the link below:
https://www.inntopia.travel/Ecomm/Package/Package/817293/en-US/?packageid=60005&promocode=dunbar-far
Basic Overnight Camping/Parking:
****PARKING LOT CAMPING IS NOW FULL*****************
COVID Safety
Please be aware of the current safety procedures at the resort.  You can find out about them on our "Know Before You Go" section of our webpage: https://skifernie.com/covid-19/summer/.
For the safety of your fellow racers, resort guests and our staff, please do not visit and compete if any of the following apply:
If you are sick or experiencing symptoms of COVID-19 (fever, sore throat, cough, difficulty breathing),

Live in a household with someone with COVID-19, symptoms of COVID-19 or who is self-isolating due to possible exposure to COVID-19.

If you have travelled outside of Canada in the past 2 weeks or been in contact with anyone who has travelled outside of Canada in the past 2 weeks
For current data on British Columbia Covid Numbers, please visit the BCCDC – http://www.bccdc.ca/health-info/diseases-conditions/covid-19/data.
For the BC Government links to COVID 19, visit – https://www2.gov.bc.ca/gov/content/covid-19/info/response.
Bare Are Map & Services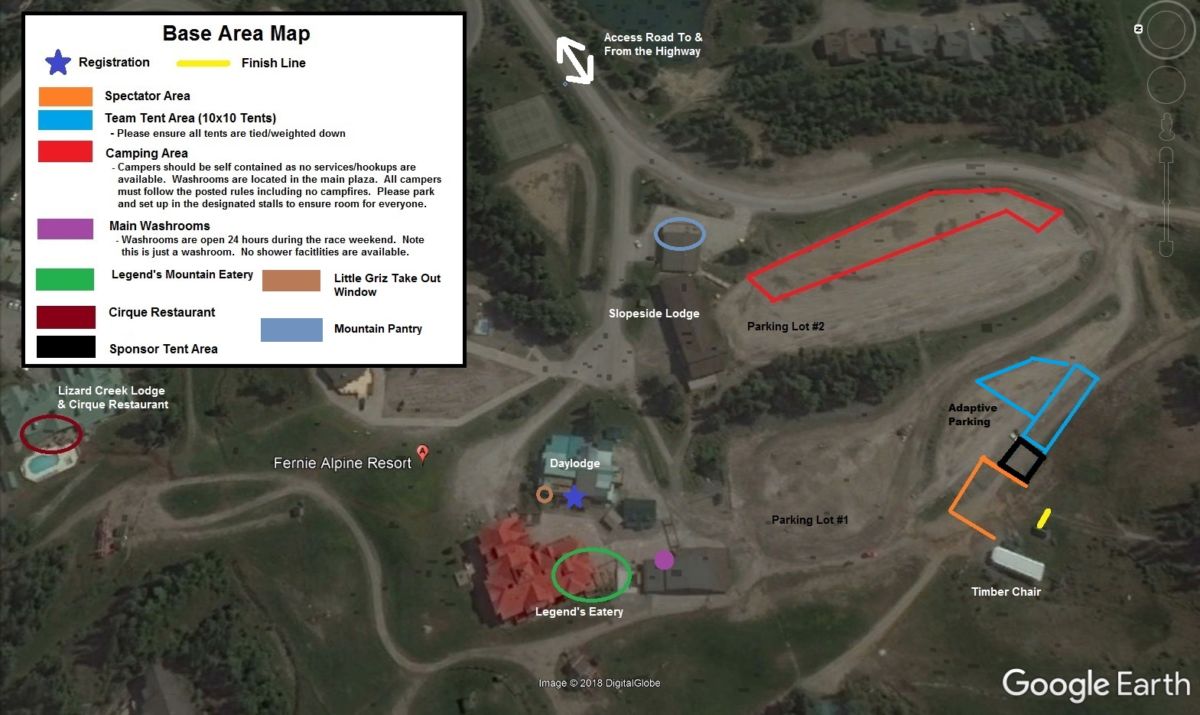 FOOD & BEVERAGE OPTIONS:

Little Griz Take Out Window in the Plaza
– Breakfast Sandwiches, Coffee, To Go Burgers, Poutine, Chips, Snacks, Ice Cream and Cold Non-Alcoholic Drinks.

Legend's Mountain Eatery Restaurant in the Plaza
– Lunch & Dinner options including burgers, salads, poutines and appetizers, kids menu and legendary drinks, with a creative and fun menu for the little rippers.
– View menu here – https://skifernie.com/discover-fernie/restaurants/legends/menu/

Mountain Pantry Grocery & Liquor Store – Located at the Y-Intersection coming up to the resort.
-The place to go for basic grocery items, grab and go snacks and non-alcoholic and alcoholic beverages

Lost Boys Cafe – Located at the top of the Timber Chair
– Serving hot dogs, sandiches, non-alcoholic beverages and snacks with the best view in Fernie!

Food & Beverage Hours of Operation for Race Weekend:
FRIDAY
Little Griz Take Out Window – 9:30am – 4pm
Legends 11am – 5pm
Mountain Pantry 9am – 6pm
Lost Boys – Closed

SATURDAY
Little Griz 8:00am – 8pm
Legends 11am – 5pm
Mountain Pantry 9am – 6pm
Lost Boys – 11am -4pm

SUNDAY
Little Griz 8:00am – 4pm
Legends 11am – 5pm
Mountain Pantry 9am – 6pm
Lost Boys – 11am -4pm

OTHER BASE AREA SERVICES:

Guest Services (Lift tickets, rentals & Lessons) – 9:30am – 5:00pm Daily
Sports Alpine Retail Store – 9:30am – 5:30pm Daily
Rentals & Repairs – 9:30am – 5:30pm Friday Thorugh Sunday
VOLUNTEERS NEEDED!
Calling all volunteers!
Volunteers are needed as course marshals for the event. Volunteers are needed both Saturday and Sunday.  All volunteers get up close to the action, lunch, event swag and are entered into our Volunteer prize draws for awesome bike prizing from our sponsors.  For more information or to sign up, please email [email protected].