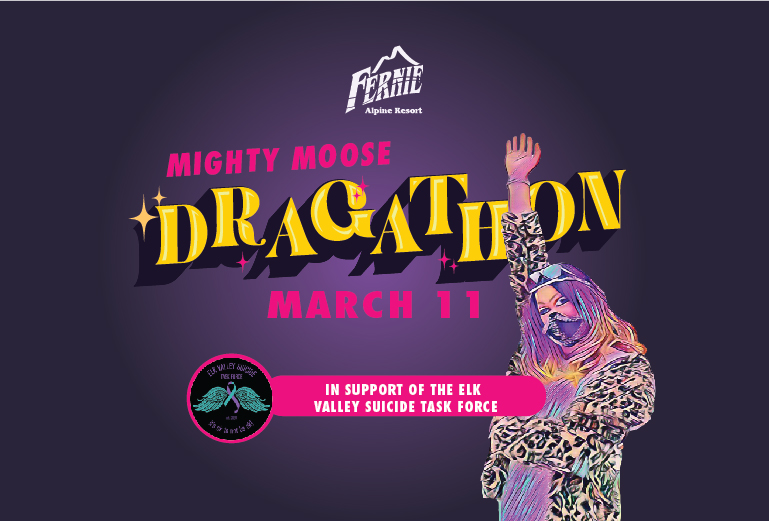 Fernie Dragathon (in support of the Elk Valley Suicide Task Force)
Once again, Fernie's most fabulous Drag Queens and Kings hit the slopes to shine a rhinestoned spotlight on suicide in the Elk Valley. Last year, with the support of the Fernie Alpine Resort and Fernie PRIDE, our Drag Stars raised over $10,000 for the Elk Valley Suicide Task Force to create a Grief Support for friends and families dealing in the wake of suicide.
This March, the Fernie Dragathon returns with a full-blown extravaganza of events and festivities in the lead-up to the Mighty Moose Dragathon to raise money and awareness for mental health support services in our community and blow wide open the conversation surrounding suicide in the Elk Valley.
The week will hit a fever pitch with The Mighty Moose Dragathon, a ski fundraiser like no other! With pageantry and poise, a stunning lineup of Drag Kings and Queens will hit the slopes to sashay their way down Fernie's most notorious run, The Mighty Moose. The event has evolved into a must-see Drag Extravaganza featuring live performance and hilarious entertainment well into the evening.
The fun will roll on into the night as the world-famous Griz Bar hosts our Queens, Kings, and community for the fabulous After Show! With Covid restrictions easing, get ready to slay on the dance floor as the iconic Edmonton Drag Queens the Nuff Family perform for the first time ever in Fernie! So get your thigh-high burgundy heels from out of the closet and get ready to party like never before at the Griz Bar.
Tickets are $20+gst (with all net proceeds from ticket sales going towards the Elk Valley Suicide Task Force). Limited tickets are available. Please find the link below to buy your tickets!!
Donate to the event by clicking the button below or visiting: www.gofund.me/72A9F390 

Support by sharing our social media posts, watching the videos and donating to the GoFundMe so we can embrace the conversation about Mental Health in our community.
Schedule
4:30 pm: Opening Ceremony (introducing the Drag Queens & Kings)
4:45 pm – 5:30 pm: Drag Queens & Kings Skiing on Mighty Moose on own.
5:30 pm – 7:30 pm: Public skiing with Kings & Queens on Mighty Moose (details coming soon)
Entertainment on the Slopeside Deck (DJ & MC)
7:30 pm: Group Ski Down the top of the Mighty Moose led by the Drag Queens & Kings
8:00 pm: Doors to Griz Bar After Show & Party Open (ticketed event)
Mighty Moose Night Ski With Drag Queens and Kings
We are excited to open up night skiing with the drag queens and kings this year from 5:30 pm – 7:30 pm.   To receive your night ski ticket, please go to the Fernie Alpine Resort tent at the bottom of the Mighty Moose. A donation to the Dragathon is required to be able to night ski that evening. Cash donation can be brought up that evening, so showing proof (receipt or screenshot) of your donation on the Go Fund Me page. Proof of vaccination QR code is required for anyone ages 12+ (please bring your season pass or QR code to the tent that evening).
Griz Bar After Show – SOLD OUT
This event is now sold out!! Everyone is still welcome to join us on Mighty Moose for night skiing and/or for entertainment on Slopeside deck from 4:30pm – 7:30 pm March 11th. 
We are excited to have The Nuff Family – Nada Nuff and Farah Nuff, plus special guests Felicia Bonee and 1 more Queen, join us from Calgary for a fabulous Drag Queen extravaganza.   Nada Nuff is Calgary's Broadway diva! She has been stomping stages across southern Alberta and lower BC for over 7 years. At a Nada Nuff show, you can expect to see comedy, glamour, and a heavy dose of sass. Nada is also the co-owner of HireHeelsYYC. During the pandemic, HireHeelsYYC was able to get a handful of local performers back performing – but this time on the streets. Makeup and the transformation of drag is the reason Nada Nuff does drag. She wants to share her passion for the art form across this beautiful country and eventually worldwide. Farrah Nuff is an original YYC dancing diva! Performing across Canada for nearly 15 years, Farrah brings flash, sparkle, and a whole lot of colour to every performance. Training as a professional dancer since the age of 8, Farrah brings magic to her performance style. Working on her Bachelor of Education at The University of Calgary, She has hopes and dreams of bringing her love and attention to detail into her teaching of Drama and Dance in schools for the rest of her life. Hoping to enrich and changes people's lives forever, her motto is "Be who you needed growing up."
PLEASE NOTE:  Open to 19yrs+. ID and proof of full COVID vaccination QR Code are required for entry (as per current government public health orders). Face masks are required when not seated at a table (including on the dance floor).
Once purchased, tickets will be 'Will Call' at the door under the purchaser's name.
Full Week of Events
This year we have a whole week of special events leading up to the Mighty Moose Dragathon! Please visit the link here for full details on these events: CLICK HERE.
Monday, March 7th @7pm: Art Cleansing Session at the Arts Station
Tuesday, March 8th @7pm: Drag Bingo with the Rainbow Club at Fernie Secondary School
Wednesday, March 9th @8pm: Mental Health Themed Trivia at The Fernie Hotel
Thursday, March 10th @10am: Drag Storytime at the Fernie Heritage Library
Thursday, March 10th @2pm: Drag walk throughout Fernie downtown
Thursday, March 10th @7pm: Cocktails and Pussy Willows at the Fernie Distillery
Friday, March 11th @4:30pm: Dragathon on Mighty Moose at Fernie Alpine Resort
Friday, March 11th @8:00pm: Griz Bar After Party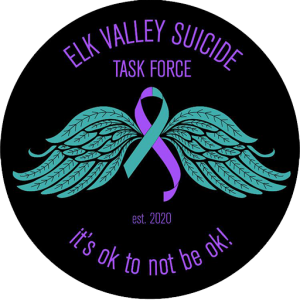 Please visit the Elk Valley Suicide Task Force website to learn more about this fantastic non-profit organization:  CLICK HERE.