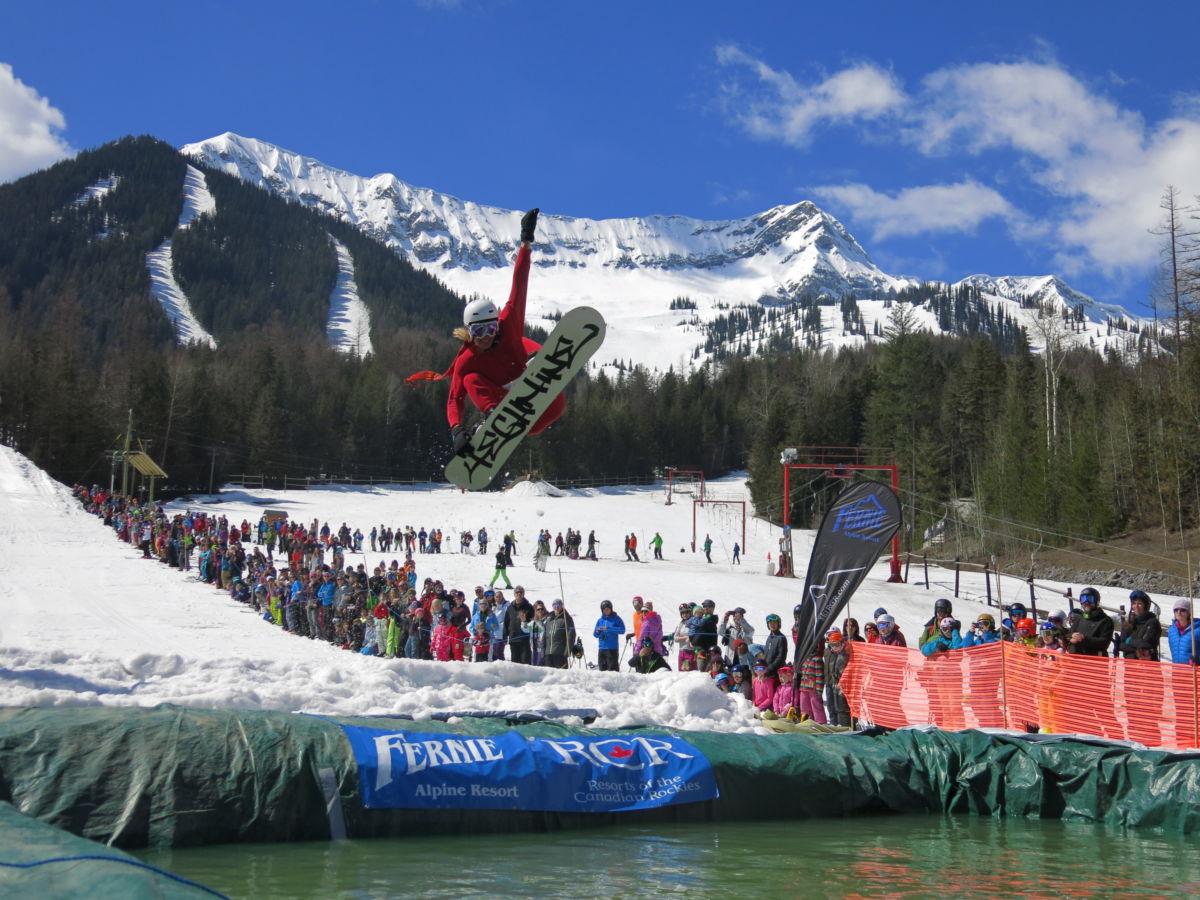 CANCELLED – Coca-Cola Slope Soaker
Due to the ongoing concern regarding COVID-19, the Coca-Cola Slope Soaker event will be cancelled.  Please visit skifernie.com for further updates.
Celebrate the final day of the winter season with the ultimate season-ending event.
Strap on your skis or snowboard and see if you can make it across our Slope Soaker pond.
Participants are encouraged to dress up in creative costumes as crossing the pond is not the only goal.  Extra prizes and points will be awarded for creativity/costumes, effort, crowd reaction, biggest splash etc.  Plus all the registered participants are entered in for amazing draw prizes from our sponsors!!
This fun event is open to anyone 12 years of age and older.
Rules:
Consumption of alcohol is not permitted during or prior to participation in the event.
No nudity or offensive costumes are permitted during the event (remember this is a family friendly spectator show)
Helmets are MANDATORY for all competitors
No ski poles allowed (as they damage and tear the tarp liner)
Contestants must be on skis or snowboards only (no sleds, GT racers, etc)
If you do not cross the pond, the rescue team from Fernie Search & Rescue will help you get out of your gear and exit the pond
Refrain from trying to stand up and move in the water with your gear on as sharp edges can damage the pond liner
Inverted aerial maneuvers are NOT permitted
All contestants must bring their own towel/blanket for after they exit the pond. Change of clothes is strongly recommended as the water will be very COLD!
Small props are allowed with costumes as long as they aren't restraining and/or a safety hazard to the participant or the crowd. Fire, fireworks, etc are not allowed as props.  Event officials have the right to disallow any props that they feel are a safety hazard.
No morph suits or costumes & accessories that cover your nose and/or mouth
Event officials can deny entry at any point in the event (registration, start area, etc) if they feel participants may put themselves or others at risk or if participants violate the rules above.  Violation of the rules above will result in disqualification from the event and may result in suspension or loss of skiing privileges next season.
Competitors must check-in at the Griz Daylodge between 10:30am and 12:00pm on the event day to pick up their bib (even pre-registered competitors).